In the field of cybersecurity it has always been a fact that the Windows operating platform has been a favored target. This comes as no surprise since it holds the largest market share among all other operating systems. However, a changing trend has been noted in the SophosLabs 2018 Malware Forecast that sees Android ransomware on the rise.
"Ransomware has become platform-agnostic. Ransomware mostly targets Windows computers, but this year, SophosLabs saw an increased amount of crypto-attacks on different devices and operating systems used by our customers worldwide," said Dorka Palotay, SophosLabs security researcher and contributor to the ransomware analysis in the SophosLabs 2018 Malware Forecast.
According to SophosLabs analysis, the number of attacks on Sophos customers using Android devices increased almost every month in 2017.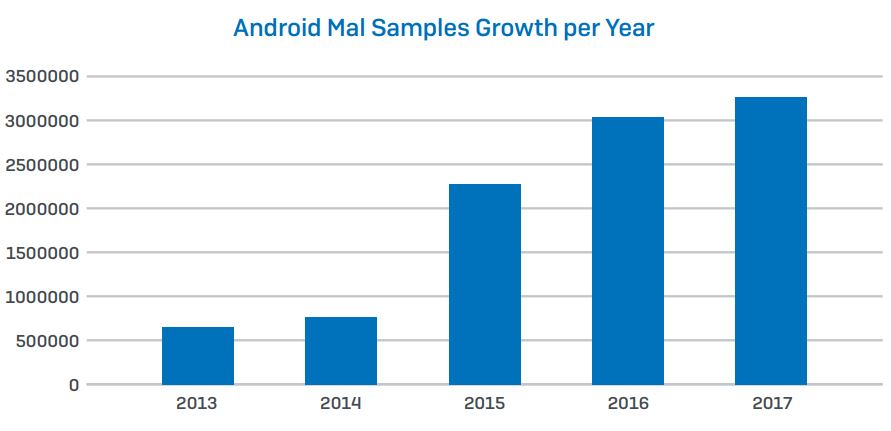 "In September alone, 30.4 percent of malicious Android malware processed by SophosLabs was ransomware. We're expecting this to jump to approximately 45 percent in October," said Rowland Yu, a SophosLabs security researcher and contributor to the SophosLabs 2018 Malware Forecast.
Yu believes that one of the reasons Sophos believes ransomware on Android is taking off is because it's an easy way for cyber criminals to make money instead of stealing contacts and SMS, popping ups ads or bank phishing which requires sophisticated hacking techniques.
"It's important to note that Android ransomware is mainly discovered in non-Google Play markets – another reason for users to be very cautious about where and what kinds of apps they download," he added.
Other Android attack methods
The SophosLabs report further indicates two types of Android attack methods emerged: locking the phone without encrypting data, and locking the phone while encrypting the data.
Most ransomware on Android doesn't encrypt user data, but the sheer act of locking a screen in exchange for money is enough to cause people grief, especially considering how many times in a single day information is accessed on a personal device.
"Sophos recommends backing up phones on a regular schedule, similar to a computer, to preserve data and avoid paying ransom just to regain access. We expect ransomware for Android to continue to increase and dominate as the leading type of malware on this mobile platform in the coming year," said Yu.